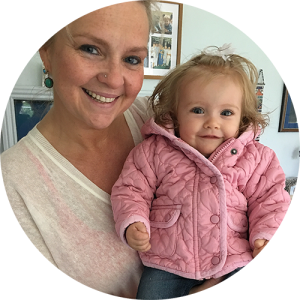 When I was in my 20s, unsure of which path to follow and still trying to find my real passion, I came across a course called New Opportunities in Holistic Studies. It started a life-long journey in healing and therapy that changed the course of my life.
Over the next 10 years I soaked up every aspect of the holistic world, learning whatever I could about alternative therapies and helping clients to create amazing changes in their lives. One of the central themes I learnt was that we all have an innate ability to heal our bodies, and this feeds into everything I teach.
My skillset expanded as I embarked on my own fertility journey aged 36. I learnt how our childhood experiences, beliefs and thought patterns can unintentionally lead us to self-sabotage, and how, if we're truly ready, we can find our way back to a place of calm. It was powerful stuff.
After 10 years, we finally accepted a baby was not going to happen and started to build a new life. I had a full client base, and loved supporting people through the alternative therapies I was now proficient in.
Amazingly, at the age of 45, I fell pregnant. It was the best news in the world! We went through some uncertain times, and I needed to go deep within myself to get through, but I came out stronger, happier, healthier – and with a beautiful little girl.
I still offer therapy and healing work to people struggling to cope with any aspect of life. I am also honoured to specialise in fertility. I've learnt so much through my own process, and love helping women and other couples to have a smoother ride through an incredibly emotional time.
More than anything I want people to know that what we think is impossible really can be achieved. It might involve some discomfort, and delving into beliefs and experiences we'd rather forget, but we all have the power within us to heal our soul and restore our spirit.
You can read more about my story here.